For Shame! (a Lengthy Rant on Sizeism)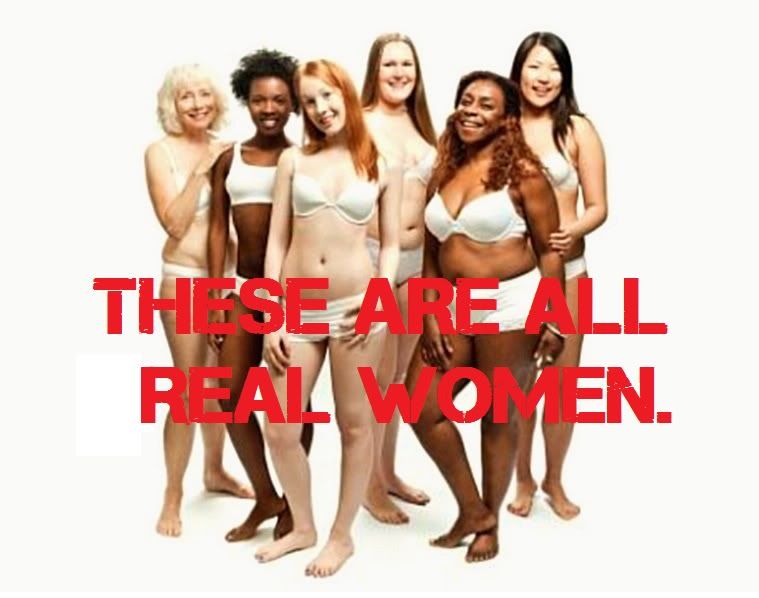 There's been a considerable and laudable recent effort to abolish the troublesome "Real women have curves!" quasi-campaign in the collective progressive mindset (personal favorite here).

And it should certainly be abolished. This pseudo-feminist (and the idea that it is in any way mistaken for feminism) little saying is wrong on a number of levels, not least prizing one body type over the others is what got us into this damn mess in the first place. But please don't fall into the trap of thinking that "skinny-shaming" is anywhere near as prevalent as "fat-shaming".

Just like sexism affects all genders, including the one still favored the most (cisgendered men), sizeism affects all sizes, including the one favored the most. Keeping this analogy, while sexism certainly affects men (the old poem? Sadly still relevant almost forty years later), women are still the most punished by it. And sizeism still punishes those who are not naturally slim (which actually runs a variety of body types, not just "fat") the most.

Of course, it could be argued that the phrase "Real women have curves," is not attacking slim women per se, but attacking the fact a heavily photo-shopped image is held up as a standard-bearer for what is "acceptable attractiveness." In this vein, we could level "real women have pores."

An angle I frequently hear is that all cisgendered women have a natural "extra" layer of adipose tissue to some degree; the evolutionary protection for the bearer of the young in the species in case of famine or related disaster. Only when reached past a point of starvation (or photo-shopping) does this layer disappear. It's not a coincidence that one of the strongest threads in the destructive tapestry of anorexia and similar disorders is a kind of misogyny in the desire to delete and deplete femaleness, frequently interpreted as the loss of control. Frequently, cis female sufferers of severe cases report the cessation of their menstrual cycles and some even experience increased body hair growth.

Do these women (or starving women in ravaged countries) deserve to be deemed not "real"? Absolutely not. But is an excessively photo-shopped image a real woman? No. It's an image. Excellent elaboration on this here.

All women are real women. Whether they be cis, trans, skinny, muscular, fat, slender, healthy, or sick. All of them. And they do not deserve to be photo-shopped to suit any standard of "attractiveness", whether it be to trim them down or plump them up (see: Keira Knightly's figure getting enhanced).

But the fact remains that women are constantly told, via the roaring three-headed monster of pop culture, advertising, and the beauty industry (all heads interrelated and feeding the others), that they'd better slim down and keep slimming. Slim (and the slimmer the better) is indisputably the body type held up as "acceptable" and "healthy" (but more about that "healthy" bit later). Do women that are naturally slender deserve to be slammed and told they aren't "real"? Of course not. But do they face shaming anything comparable to what women who do not have their body type (the farther down the spectrum from theirs, especially) do? The three-headed monster says no way.

Blaming the three-headed monster is old news, of course. The more myopic have a tendency towards derision of those who fault such an entity for their dissatisfaction with their bodies. Rising above what we're more or less arbitrarily sold as "attractive" and "desirable" is certainly a laudable goal, but blaming those who fail to escape the all-encompassing indoctrination by aforementioned three-headed monster (and either escaping being raised by individuals that revere said monster or managing to somehow complete reject much of their upbringing) is ridiculous.

It's not just that skinny is sold as "attractive", it's also sold as the sole body type that is "healthy". Fat-shaming (a better name would be "anything-but-skinny"-shaming) relies frequently on it not being a matter of attractiveness, but a matter of "health". Slim people do not naturally have healthier, more balanced diets than those with different body types. Slim people do not naturally exercise more than those with different body types. According to most "anything-but-skinny"-shaming logic, a cocaine addict has a "healthy body type". An excellent article about the "healthy" aspect of fat-shaming can be found here.

This isn't to say that skinny-shamers don't employ similar health "logic". Too many times I've seen a woman of a more curvacious figure (and no, I'm not talking about what is usually considered "fat", I'm talking about women "bigger" than skinny) called "healthy". And I've known too many healthy slim women that have been called "unhealthy".

And don't think that slender women, despite having their body type being prized as the most desirable, are actually "allowed" to enjoy their bodies. "Maintaining" that figure (or slimming it down even further) is another favorite of the three-headed monster. If slender women enjoyed their figures, they wouldn't need to purchase vast quantities of "fitness" paraphernalia, and other "maintenance" buys. And those are advertising dollars that can't afford to be lost.

I reiterate: it is wrong to prize any one body type over another. But I also reiterate that false equivalency is a very easy trap to fall into. It isn't the persecution Olympics, but keeping a sense of perspective (and this isn't even really getting into the cissexism and racism aspects in sizeism) about the problem is essential in stopping it or at least fighting it with all you're got (skinny, fat, and everything in between).
regent-eiko likes this
magdolenelives posted this
Possibly one of the top Witch-feminist-Toriphile-Silent-film-enthusiast-John Waters-worshiping-June-jazzing-glamourbombing-artists in the charmless city outside Charm City! My art can be found
here
, on Facebook
here
, and on Flickr
here
.