Oh, word?: "For a nice solid meal that will make your man sizzle, grab one of...
"For a nice solid meal that will make your man sizzle, grab one of these babies from inside of your kitchen cabinet. Rip off the plastic and if your man reaches for it, playfully remind him that the plastic wrapper is not for his penis. As a matter of fact, toss that plastic wrapper in the trash just in case he gets a little bit more excited. Then, peel back the paper on the top your little package of noodles. If your guy moans, tell him to relax while you stick the cup of noodles under the sink faucet. As the water splashes in to the cup, sexily ask your man if the sound of the water reminds him of pee pee. If he says no, then innocently ask him if "he's sure it doesn't sound like pee? Because it kind of does." When he finally says yes, tell him "Good answer." And stick that cup into the microwave and set it to 3 minutes and 30 seconds. At this point your man will be so overcome with horniness at the thought of consuming you & the noodles, that he will have trouble keeping his hands off of you. Remind him to be patient during the next 3 minutes and 30 seconds. But keep his attention by never breaking eye contact with him. That's right, amp up the mood while you wait for the noodles by just staring at him. Don't speak. Just listen to the gentle hum of the microwave. When the microwave dings and the noodles ready to be served, make sure you sound off in agreement with the deep guttural moan of an orgasm. He should be licking his lips with desperation by now. Grab a fork from the drawer with all of your utensils and be sure to stick it in your cleavage. Let your imagination do the rest. Enjoy!" -Cosmo Magazine
Can't… breathe…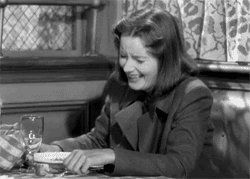 Possibly one of the top Witch-feminist-Toriphile-Silent-film-enthusiast-John Waters-worshiping-June-jazzing-glamourbombing-artists in the charmless city outside Charm City! My art can be found
here
, on Facebook
here
, and on Flickr
here
.